產品資訊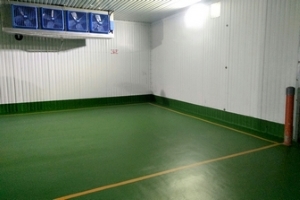 New Coat Water Based Epoxy Flooring Material
NEW COAT series are combined epoxy modified polyol resin and polyisocyanate with cement system.
It offers excellent resistance to heat, hot water, acid & alkali, chemical.
NEW COAT has high mechanical properties, abrasion resistance, low odor, solvent-free and fast curing properties.
It can decrease of construction time and can be applied event to wet surface.
NEW COAT series can be applied for chemical, food factory and sewage linings, etc.


■ Features

1.Excellent resistance to chemicals.

2.Excellent heat and hot water resistance.

3.Solvent-free, low odor, water-based, environmental protection product.

4.High temperature resistance, flame retardant properties.

■ Usages

1.Chemical factory, electronic semiconductor plant.

2.Food manufacturing, medical processong area.

3.Kitchen, Boiler house.

4.Supermarket, hypermarket.

■ Packaging and Storage

1.Packaging:

‧UCA-726:20kg / pail

‧UCB-933:20kg / pail

‧UC filler:14.4 kg / bag

‧UC primer filler:6 kg / bag

2.Storage :

‧The containers should be kept strictly closed and stored between

5~30 degree.

The shelf life is 6 months.

‧Fillers must absolutely be stored in dry premises.

■ Limitation

1.Do not apply on contaminated or friable substrates.

2.Do not apply when rain is imminent or temperature is below 10℃.

3.Clean up the tools and skin contacted with water.

4.The shelf life is 6 months. Store in a cool, dry place.
Item

Property

Gloss

Matt

Pot life(25℃)

10 ~ 13 min

Tack free time

120 min

Curing time

24 hrs(25℃)

Applied thickness

6 ~ 15 mm

Coverages

13kg/㎡(Thickness 6 ㎜)

19kg/㎡(Thickness 9 ㎜)

30kg/㎡(Thickness 15 ㎜)

Operating Temperature

15℃ ~ 30℃

Compressive strength

450 kgf/c ㎡

Tensile strength

60 kgf/c ㎡

Flexural strength

170kgf/c ㎡

Concrete adhesion

25 kgf/c ㎡ (Concrete failure)

Permeability

0.05↓
■ Substrates & Surface Preparation
‧ The surface should be dry, solid and even.
‧ All cracks should be patched.
‧ Remove dirt, dust, oil and all other in concrete.
‧ The surface should be primed with New coat primer.
■ Mixing
‧ Top Coat
UCA-726:UCB-933:UC filler = 1:1:4.8(Mix ratio by weight)
‧ Primer
UCA-726:UCB-933:UC primer filler = 1:1:2(Mix ratio by weight)
■ Application
(1) UCA-726 3kg and add UCB-933 3kg, then stir thoroughly for 30 seconds.  
(2) Add UC filler and stir for 1 minute, finally apply with a trowel.  
(3) The mix should pour on the surface of application, and finish as soon as possible.
‧ After the surface layer, please use the foam roller promptly. (Spike roller)
‧ Clean the tools by acetone after application.
‧ Apply at temperature between 15 to 30℃ and below 85% of relative humidity.
‧ The thickness is recommended to control at 5 to 10㎜ in one layer.