產品資訊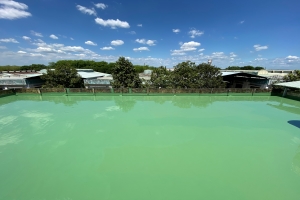 WP-199Green One Component Polyurethane Waterproofing Membrane
One component polyurethane waterproofing material is a moisture-cure waterproofing material.
It cures to form a tough, highly elastomeric and impervious membrane. This product is suitable to apply by rollers, trowels or airless sprays.

■ Features

● Coal tar free.
● One component product, easy to application.
● Can be applied by a brush, a roller , a trowel or a spray.
● Excellent resistance to aging and cracking.
● Excellent adhesion.
● Suitable for internal and external waterproofing application.

■ Usages

● Waterproofing for external walls and basemens.
● Waterproofing for roof and balcony.
● Waterproofing for bathroom or other humidity area.
● Waterproofing for potted plant area.

■ Packaging

WP-199 Green 20kg / plastic pail

■ Limitation

1. Do not apply to wet, contaminated or friable substrates.

2. The curing time will be retarded when temperature is below 15℃.

3. Thickness cannot be exceeded 2mm per coat in case to prevent the blister on the

surface.

4. One or two coats for the primer are recommended to ensure the substrate is

completely sealed.

5. The storage temperature at 25℃. Shelf life is one year.

6. Set and mind the protective work before sparying to avoid polluting vehicles,

building, etc.
| | |
| --- | --- |
| Items | Results |
| Working time (hr) | Under 2hr |
| Re-coating interval (day) | 1 day above |
| Full cure (day) | 7 days |
| Density | 1.40 ± 0.05 |
| Tensile strength(kgf/cm2) | 20↑ |
| Tear strength(kgf/cm) | 12↑ |
| Elongation(%) | 400↑ |
| Hardness Shore A | 30↑ |
| Viscosity(cP/25℃) | 3,000~9,000 |
Note: Results are based on the temperature of 25℃; relative humidity is below 50%±5 and allowed to cure on constant temperature and humidity for 7 days.
1.New concrete substrates should be cured for at least 28 days; new cement substrates
should be cured for at least 14 days before application.

2.Substrates must be clean and dry, patched all cracks or joints with one component
sealant material (CP-1007、QS-1001). Allowed the sealant dry before next application.

3.Applied this material by a trowel, a roller or a spray. Two coats are recommended for
the best effective waterproofing membrane.

4.One component waterproofing material can be applied to patch the partial defected
area on the substrate. It is easy application, labor and time saving.

5.TC-101 or TC-991 top coat can be applied to external one component PU
waterproofing to achieve the weather and UV resistance, durability and waterproofing.

6.If the surface of waterproofing membrane required to cover with cement mortar or
tiles, apply a coat of inferface coating to the membrane and scatter quartz sand (CC
-50 or CC-20). Allow the coating to completely dry and cure before the next
application.