產品資訊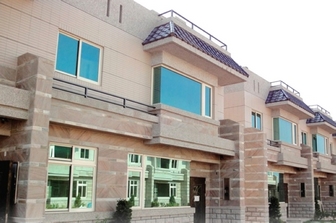 C-166 One component flexible waterproofing membrane
C-166 is a one-component, non-plasticized, vinyl acetate-ethylene (VAE) based on emulsion material. This product is composed of specially selected filler supplied in powder-crystalline silicon. It cures to form a flexible, high strength and durable membrane. It is a waterproof finish against hydrostatic pressure product. This product is a water-based, green formulated and environmentally friendly product. C-166 provides user usability and easy to application. Suitable for DIY, can be easily applied by roller or brush.


■ Features

1.Extremely elasticity and flexibility to prevent cracking.

2.Excellent vibration and noise damping.

3.Excellent adhesion, waterproof properties and resistance to acid rain.

4.UV resistance.

5.Easy to application.

6.Excellent weather resistance, aging resistance and extremely durable.

7.Prevent wall from cracking.

8.Can be reinforced with non-woven fabrics to form a high strength water

impermeable layer.

■ Usages

1.Waterproofing for sandwich of bathroom, kitchen, etc.

2.Waterproofing for flat, sloppy roofs or window frames.

3.Protect wall from cracking.

4.Prevent concrete from aging.

■ Limitation

1.Removed all paints off, both new and old concrete surface should be primed at first.

2.Repair all cracks with the proper patching material of the existing substrate.

3.Do not apply when temperature is below 5℃ or rain is imminent.

4.Allow to dry for 1 to 2 hours before apply the additional coats.

5.Applied by roller. At least two coats are recommended.

6.Applied with product C-166 first, then fixed with non-woven fabric, wait to dry to

apply the additional product C-166 over the non-woven fabric.

7.Wash tools and hands promptly with water before the material sets.

8.Containers must be kept tightly sealed after use;store in a cool and dry place.
Item

Property

Pot life

No restriction if the material




does not contact with air

Recoat time

2-3 hrs / 25℃

Full cure

2~ 4 days / 25℃

Specific gravity

1.65 ± 0.10

Solid content

65% or above (mixed)

Viscosity

3600 cps / 25℃

Temperature

Applied between 15℃ ~ 35℃




is recommend

Thinner

Water (Not recommend to dilute




this material)
■ Packaging
20 kg/pail (Plastic Bucket)
(Color: Cement、Light Grey)
■ Storage
Stored in a cool, dry location in unopened containers and shelf life is 12 months.