產品資訊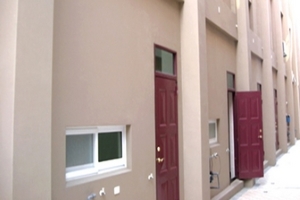 C-168 Acrylic Emulsion Elastomeric Waterproofing Coating
based emulsion. It is processed by specially selected fillers supplied in powder-crystalline silicon. It cures to form flexibility, high strength and durable membrane. It is a waterproof finish against hydrostatic pressure product.
It is "green" formulated, and no hazards for environment protection. C-168 product provides applicators tremendous usability and ease of application. It is suitable for DIY use, and can be applied by roller or brush.

■ Surface Preparation

1.Smooth the surface to form a uniform and level surface.

2.Patch the crack or void with putty.

3.Material must be stirred thoroughly before use.

4.Prior to application on joint and corner.

5.Totally apply by roller.

■ Application-Roller

1.After the surface is ready, one coat of AC primer has to be applied before applying


C-168. The coverage of AC primer : 0.2 kg/㎡

2.20kg/pail, thickness of 0.2mm per applying area of 55 ㎡, coverage 0.35 kg/㎡;


thickness of 0.3mm per applying area of 40 ㎡, coverage 0.5 kg/㎡. The proper


recommendations are 0.5 kg/㎡.

3.Do not apply more than 0.5 kg /㎡ of coverage per coat against sagging.

4.The residue of C-168 should be stored tightly and used up as soon as possible.

■ Limitation

1. Patch the crack or void with putty.

2. Do not apply if the temperature is below 10℃ or rain is imminent.

3. Reserve dry time 1-2hrs for application intervals to allow it of more perfect.

4. Clean materials remained on tools and skin with water before drying.

5. Store in dry and cool place to avoid direct exposure to moisture.
Testing items

Testing results

Specific gravity

1.6 ± 0.10

Viscosity

10000 cps/25℃

Tack free time

15 ~ 20min/25℃

Curing time

1 ~ 2 hrs/25℃

Full curing

3 ~ 5 days/25℃

Recoat time

2 hrs/25℃

Coverage

0.35 kg/㎡




(0.2mm thickness per coat)




0.5 kg/㎡




(0.3mm thickness two coat)

Grade

Roller or Brush

Dilute

Water(not recommended)
■ Packaging
20kg/pail (Plastic Bucket)
(white、Rose white、lily white、evening glow、light green、light blue、pale blue、
pale gray)
■ Storage
It should be stored in sealed containers, cool and dry place. Do not expose directly to
sunlight. The shelf time is 12 months.