產品資訊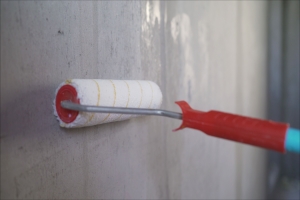 WPR-401 Water Based Epoxy Primer
WPR-401 is a two component water-based primer used in variety substrates. It is suitable for AC and RC surface and provides excellent permeability and adhesion. It is a low VOC, very low odor, human-harmless and environmental green products.

■ Features

1.Excellent penetrating and firm up the substrate.

2.Excellent adhesion and used in various substrate.

3.Excellent Chemical resistance.

4.Low odor and environmental friendly.

■ Packaging

Primer A WPR-401 18kg/pail

Primer B WPR-401B 18kg/pail

Mix ratio A:B=1:1

■ Storage

Stored in a cool, dry location in unopened containers and shelf life is 12 months.

■ Surface preparation:

1.Scrape or remove loose substrate and roughs.

2.Rest of AC surface or stones should be removed.

3.Remove all dust or dirt possibly.

4.Surface must be free of grease and oils.


■ Application:

1.Clean-up the tools of roller and brush before application.

2.Stir thoroughly before application with mix ratio A:B=1:1 to apply the coat.

3.Apply to cracks, corners and joints by brush first.

4.Totally application by roller.

5.Epoxy Primer 36kg/set, approximately cover 120 ㎡, and coverage rate is 0.3kg/㎡.

6.Use up the material within 60 minutes after mixing A with B.




■ Limitation

1.Do not apply when temperature below 5℃ and rain is imminent.

2.Clean up tools and skin with water before drying.

3.Store in cool and dry place and tightly sealing.
 Item

 Features

 Appearance

 Clear(after drying)

 Tack free

 2~3hrs/25℃

 Full cure

 24hrs/25℃

 Application

 Roller or brush

 Coverage

 0.2kg/㎡

 Thinner

 Water
(added 5%)

 Installation Temp

 Recommended temp
application(10℃ ~ 35℃)